Back to news
Mark Eaves: How far do you think you scroll each day?
– Mark Eaves
Many sedentary people (there's 20 million of them in the UK) are scrolling a greater distance on their mobile in a day than they walk. Concerns for the nation's physical health aside – and just this week the UK finds itself in the top third of the most inactive nations globally – that's an astounding concept.
The typical phone screen is about 10 cm tall or 0.0001km. Research recently done at Gravity Road tracking mobile usage revealed that many of us of us are scrolling through more than 2 km of content a day – whilst much of the (physically able) UK manages to walk about only half this distance.
We're all travelling without moving. Welcome to virtual insanity. Mad isn't it?
In fact just one scroll of the MailOnline homepage on a mobile browser, top to bottom, is well beyond the height of the world's tallest man – Sultan Kösen's his name. He's Turkish and he's 251cm tall (8 feet 3 inches), whereas the MailOnline (on a typical phone) is about 510cm (over 16 feet).
So, just one quick whizz through a shameful sidebar of Love Island gossip, a gawp at Cat Deeley's huge diamond and a glimpse of Meghan's towering stilettos – well before you know it, you've done a couple of Sultans on the MailOnline.
I used to measure out my life in coffee spoons. Now it's in Sultans.
This is how we are spending our time. And that's just your ups and downs. Add in your sideway swipes – the Snaps, the Stories – plus your WhatsApps, good ol' emails – well, I'll leave you to dwell on the virtual expanse of your travels.
Gravity Road has always sought to create work that people want to spend time with. Now that simple phrase of ours, Time Well Spent, by which we've defined our purpose right from the start – is acquiring new layers of meaning and momentum. It's no less than tech's big new debate. Across the summer months all the big tech players have been fast-tracking tools and updates to offer up the promise of taking back control, whether it's YouTube's new "Time Watched" features, through to a whole suite of Facebook & Instagram tools to evidence Zuck's 2018 pledge to "make sure the time we all spend on Facebook is time well spent".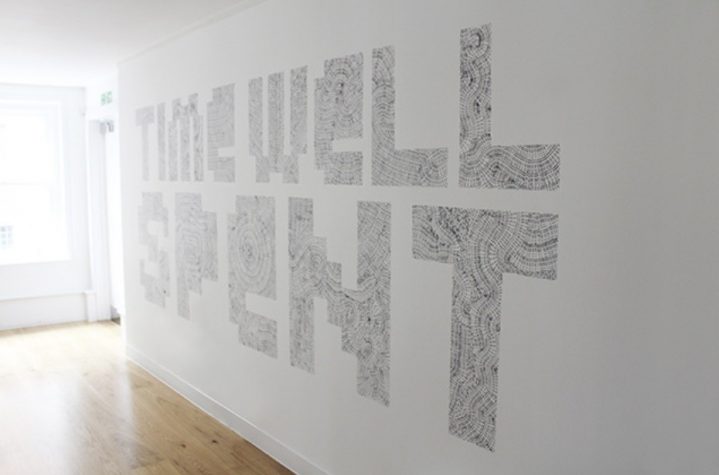 Even the phrase itself – Time Well Spent – is now a movement in the US that's gathered pace and prestige through realigning tech with human interests.
So, whilst the advertising industry screams to pump out more stuff, we need to listen to the growing whispers too – the zero sum race for our finite attention.
When we launched Gravity Road in 2011, like all startups, we had a small, bare office. So we begged our favourite typographer, the mighty Dave Towers, to go to town on the walls. We said, you can do whatever you want, so long as we get "Time Well Spent" written on the wall outside the boardroom. So he did. With a humble library stamp. In letters a metre high. He changed the date every day as he worked his way through it.
Took him four solid days of diligent stamping, 12 hours a day. Such artistic endeavour took a deep psychological toll – even now, five years on, he can't look at a library book front page without twitching. But it looks fabulous. And, for him, the artistic act was Time Well Spent.
The creative imperative to make things of genuine value needs to set the agenda to an ever greater degree; work that leaves the feed behind to become the main course; irresistible, phone-turning moments to lose yourself in. We are in the attention game, but let's not be lazy with it. Too many people are deluged with too much stuff that they just don't want to spend time with. We must resist the temptation to be bottom-feeding feed-fillers even if there's a short term market demand for it. There needs to be a genuine commitment to serve audiences with integrity rather than contempt: don't be a time waster.
So let's marry creativity with all the tech and tools that can make moments with brands as rich as possible for audiences – the emerging "tech toy-set" we have is something we should all be excited to embrace. Let's make the most of mobile.
Maybe it's harnessing AR platforms like that which Niantic, (makers of Pokemon Go and the soon to launch Harry Potter game, Wizards Unite) has built that "understands reality" to an incredibly sophisticated degree, adding deep value to users (full disclosure – Niantic is a You & Mr Jones group investment, but i'd big them up even if they weren't).
And if the side effect of these virtual layers is keeping people more physically active in the real world too, well, bingo. Breaking the general trend of richer, tech-evolved countries being the most inactive is surely a noble pursuit (Actually, Pokemon Go players have now walked 2 billion miles playing the game – roughly the equivalent of a stroll to Pluto).
As Warren Buffet proclaimed in an interview with Bill Gates: "the most valuable thing I own is my time. I can buy anything in the world I want. But I can't buy more time."
Let's aim to make all those Sultans more valuable; make them add up to a magical stroll through brilliantly imagined worlds, not a mean trudge through a virtual trading estate.
Let's help people spend their time better.