Back to work
5G is in the house
Bringing to life 5G with a world first live holographic experience
Client
Campaign
5G is in the house
What we did
Experiential
Event
Holographic projection
The idea
To celebrate the launch of Three's high speed 5G broadband, we brought together volumetric capture and holographic projection in a world first.
The unique and immersive installation on London's Southbank dramatised the benefits of Three's 5G home broadband over three epic nights, showcasing the future of music, gaming and esports, which were all transformed by Three UK's household 5G capabilities.
The technology
Previously, mixed reality hologram effects were either not visible to the live audience but instead viewed through a device, or, if projected, very limited in scope and angles. This was the first volumetrically captured hologram performance viewable to a live audience.
We worked with Dimension, the company responsible for putting four augmented reality 'Madonnas' onstage performing in unison with the real singer at the Billboard Music Awards earlier this year.
The Hologram House also incorporates four projectors built and managed by Projection Artwork. This allowed people to experience parallax between foreground and background, a sensation of depth unachievable on traditional broadcast platforms.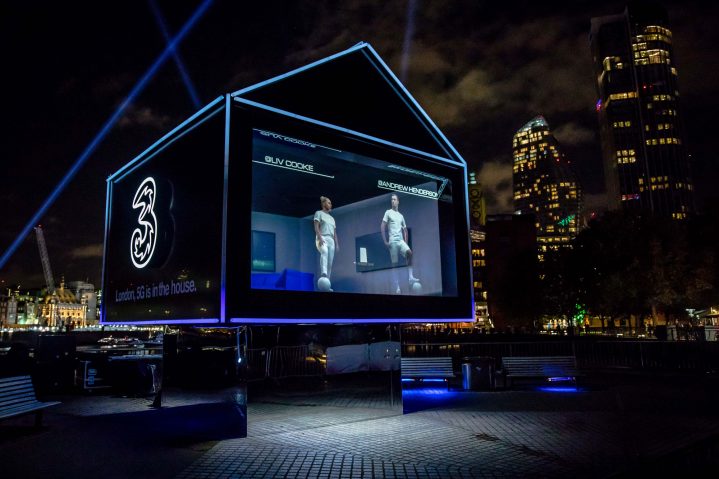 Holographic talent
The installation included photo-realistic performances from three influencers, viewable from any angle and incorporating dramatic camera moves unachievable using any other capture medium.
Each performance highlighted a different benefit of Three's 5G home broadband.